The Construction Industry
The number of job opportunities within the construction industry is increasing. In the UK, over the next 4 years, an estimated 168,500 construction jobs will be created across trades and professional roles.
One of the major challenges for employers is to recruit more people from diverse backgrounds. Currently, only 16% of construction employees are female and 7% are from BAME heritage.
Construction also needs more young people to enter the industry, with a variety of skills – a range of new and experienced talent is needed that are fit for this rapidly changing industry.
Image Issues
One of the biggest challenges the industry faces is one of perception. Less than one in ten young people would consider a career in construction, despite the fact that more than half have an interest in subjects that would qualify them for the industry.
There are 167 different careers in construction and the built environment is the second biggest employer in the country after the NHS. However,  research has found that the industry was perceived as "challenging and unexciting" by students.
Image Issues
One of the biggest challenges the industry faces is one of perception. Less than one in ten young people would consider a career in construction, despite the fact that more than half have an interest in subjects that would qualify them for the industry. There are 167 different careers in construction and the built environment is the second biggest employer in the country after the NHS, the research found that the industry was perceived as "challenging and unexciting" by students.
How We Help
Our experienced team offers free information, advice and guidance (IAG) to individuals of all backgrounds and skills levels (particularly those from under-represented groups in the industry)*.
Whether new blood, a returner to the world of work or someone looking to transition from another industry, we help them explore the wide range of opportunities available in construction and the built environment in the UK, and facilitate access to appropriate training, work placements and apprenticeships.
Read some of our recent Success stories
Our programmes typically include elements of IAG, personal development planning, training needs analysis, signposting to local careers, training and employment support services, industry-led mentoring, industry insight workshops, events, employability skills masterclasses and access to online short courses and work opportunities.
We have a growing number of Employers that we work with to provide these services.
*Eligibility criteria apply and programmes will vary depending on funding
Social Value
What is Social Value?
It is increasingly becoming the norm for organisations to consider their activities holistically, taking account of the wider economic, social and environmental effects of their actions. Social Value is often the term used for these broader effects, and those organisations which make a conscious effort to ensure that these effects are positive, can be seen as adding Social Value, by contributing to the long-term wellbeing and resilience of individuals, communities and society in general.
How can Social Value be measured and reported?
Social Value measurement is becoming more standardised. The National Social Value Measurement Framework or National TOMs for short (TOMs stands for "Themes, Outcomes and Measures") was developed by the Social Value Portal and launched in 2017. Endorsed by the Local Government Association, its adoption is spreading rapidly through the local government sector. A TOMs-based approach has also been adopted by the NHS Sustainable Development Unit. Central government is currently working on a new approach to delivering social value based on very similar principles.
A core value of Building Pathways is to have social impact in everything we do and we are currently developing a social value platform that measures the social return of investment in all our activities.
We are a diverse, multi-skilled collective of passionate and experienced people, focussed on improving personal and career outcomes for individuals who traditionally do not enter construction.
Click on the photos below to read more about us.
We collaborate with employers, local authorities, national & local government, training providers, referral partners, funders and other specialist agencies that share our commitment to increasing access to construction careers opportunities for diverse and emerging talent.
For more information please see our Employers and Partners pages
​
In March 2020, we were awarded the 'Lambeth Made Award Charter' for our work in supporting construction and built environment diploma students into work placement and apprenticeship opportunities, recognising our ability to lead, negotiate and coordinate activities effectively between employers and training providers has already helped economically inactive people gain employability support and work placements. Read more…
Mike Davis-Marks OBE, Managing Director
Mike Davis-Marks (MDM) enjoyed a 36 year career in the Royal Navy, having wanted to join the Service since the age of seven.
During that time, he served in a wide variety of leadership roles in both submarines and surface ships, culminating in a testing three year command of the hunter killer nuclear powered submarine, HMS TURBULENT.
He has also navigated a submarine to the North Pole (twice), taught Officer Cadets leadership at Britannia Royal Naval College, held a diplomatic post at the British Embassy in Washington DC (during the period of 9/11) and was awarded the OBE for his part in planning and running the International Fleet Review in 2005.
Since leaving the Navy in 2013, he joined a group of Social Entrepreneurs, who are looking at how technology and innovation can be used to drive collaborations into solving complex social and environmental problems and are also experimenting on the Future of Work.
He is the Managing Director of Building Pathways Ltd, providing pre-employment mentoring and training to marginalised people as well as a leadership facilitator and coach with the True Leader Company.
MDM qualified as a NLP practitioner in 2012 and believes that people are a company's most important asset and that investing in your workforce will deliver much greater dividends than merely trying to maximise shareholder profit.
Pete Eldridge, Finance Director
I originally trained as an engineer, but quickly realised that engineering wasn't for me. So after a short spell working for a brewery (pretty boring job but great perks), I moved into IT in Local Government. I spent the next few years as an application and systems programmer. Things moved quickly, and I ended up becoming Head of IT for Kent County Council by my early thirties.
I then decided it was time to try out the Private Sector. I joined Capita and this proved to be a brilliant move, as I enjoyed 15+ years working for a rapidly developing company in a variety of roles. Initially within the 'big ticket' sales team, but quickly promoted to Director and responsible for managing multi £'s million government outsourced contracts such as Educational Maintenance Allowance, Gas Safe Register, 2011 Census, Pensions Regulator etc. After Capita, I joined their main competitor Serco as Head of Quality for Defence.
Having spent a large part of my working life focussed on trying to make money, I got to the stage in life where I wanted to try and put something back. Working with Building Pathways as Commercial Director has been an ideal opportunity. Whilst I still need to use my commercials skills to ensure we can keep our financial heads above water, I have the pleasure of working for an organisation that is doing good and helping individuals find worthwhile careers in the construction industry.
Philip Mills, Project Director
Born in Dudley, West Midlands, both my parents are of the Windrush generation who came to the UK from the Caribbean in the 60's. Old school, West Indian values – a strong sense of community and a good work ethic were instilled in me from childhood. My first full time job was in microfinance for a Birmingham based firm, Street UK, working with sole traders and very small businesses operating in the most deprived areas of the region and found it difficult to gain access to traditional business finance. Street, provided access to financing and business advice to sustain and grow lifestyle businesses. Meeting people from diverse backgrounds within their own environments, whether visiting homes or other places of business to discuss challenges and possible solutions, seemed like second nature. My interest in community development work really started here.
I moved to South London in my early twenties to start work as an outreach and community development worker for a youth enterprise and business incubation service in Tooting. Here, I worked alongside some of the most talented, entrepreneurial inner city youth to help turn their hobbies into businesses. Later, this pioneering work allowed me to travel across the UK and abroad as an independent consultant, transferring skills and learning to other business support professionals working with disaffected and marginalised communities, in different settings. As my passion for youth and community work and enterprise grew I decided to go to university to gain professional training as a manager and practitioner.
Over the past 15 years experience I have had the opportunity to set up, organise and manage youth and community focussed work in a wide range of settings, across all sectors. Being able to utilise and apply my skills and experience to develop meaningful programmes and projects that tackle issues such as unemployment, social and economic inequality and social isolation.
I met both Mike and Pete back in May 2019 and was given the chance to start project managing Building Pathways, the following month. It was an ideal opportunity that allowed me to work from home around my young family. Working now as one of three directors has been really insightful. I am pleased to be part of a team of such innovative, passionate and like-minded people who encourage one another to reach their full potential, whilst creating and delivering work that achieves positive social impact.
Fran Mullins, Marketing & Communications Manager
My first job after University was in book publishing, where I learned about marketing and publicity, and ended up specialising in children's books, working with the likes of Roald Dahl, Quentin Blake and Raymond Briggs. Communication then was mostly by snail mail, memo or telex (remember them?), so during a few years of freelancing for arts clients, I decided to teach myself about something called Windows, and soon after became interested in the evolving World Wide Web, which then became a passion. I then worked for 8 years running the New Media department of the entertainment advertising agency Dewynters. Based in Leicester Square, I spent lunchtimes enjoying the buzz of Soho and theatreland, and many evenings at a play, concert or musical. I also got to work with Disney on the opening of the Lion King in London (lots of A listers were at the 1st night party), travel to New York with them for the opening of Aida, and got to work with the likes of Brian May, Mel Smith, and Suggs from Madness.
Following a few years at a big 5 marketing agency working on the LandRover account (it was fun driving off road in a Defender) and then with a social change comms agency, I decided to change tack and find a portfolio career that gave me more flexibility and time with my family. I enrolled myself on a 4 year counselling training course and found a part time, integrated comms role at the virtual social entrepreneurship network Ethos and have been juggling both careers since! It can be chaotic sometimes, but I find that wearing 2 hats helps me keep a healthy perspective on the other, and it means I have time to be more physically active and indulge my love of working with clay and growing veg. In my current role at Building Pathways, my interest in mental health is really useful as we support under-represented, often marginalised groups into careers in the construction industry. I am signed up to do my Mental Health First Aider training online next month.
What inspires me? I love quotes, especially this one from the anthropologist Margaret Mead: "Never doubt that a small group of thoughtful, committed citizens can change the world; indeed, it's the only thing that ever has.
Richard Blandford, Web Designer/Developer
After a number of years working in the music industry (Sony Music and Sony/ATV Music Publishing), I decided I no longer wanted to be employed and started putting together websites. My first was an instant download site for media which allowed users to download music for a fee, but with no ongoing royalty payments. During this time, I also set up a music publishing business and signed a number of writers. However, it was hard competing with the major labels and in the end I tried my hand at internet marketing, creating a number of online video membership websites. I also started renovating properties until the stock market crash of 2008 forced me back into employment by 2012. During this time I was employed by an office furniture company as an SEO (Search Engine Optimisation) and Internet Presence Manager, designing and maintaining websites, managing Ad campaigns and looking after their local and national search presence. I never quite figured out what I really wanted to do with my life, but I've always known that I would rather 'sail my own ship' as master of my own destiny.
Subsequently, in 2014 I started a business called Suckerfish UK Ltd and began selling tiny phone mounts via an ecommerce website and Facebook business page. During this time I learned a great deal about advertising, designing and building websites, SEO and social media. By 2016 I was able to become self-employed on a full time basis and changed the nature of my business to website design, picking up my first and longest standing client, The Police Memorial Trust. The business has grown since then, mainly through word of mouth and in December 2016, I started remote contract working remotely for EthosVO – designing and maintaining a network of sites, one of which was Building Pathways which is now a separate entity in its own right.
Ethos and Building Pathways very much fit in with my philosophy that there must be a better and smarter way of working than standard 9-5 hours and the burden of a daily commute.
With Building Pathways going from strength to strength, a new website coming soon and a number of exciting projects in the pipeline, I very much enjoy being an integral part of the team and look forward to a bright and successful future ahead for the business.
Rosie Okumbe, Marketing and Project Assistant
For as long as I can remember, my aim in life has been to work towards something worthwhile. My first job out of school was in fundraising at an international development charity, which I found incredibly rewarding, and I became set on working in a role that would make a difference to others. After spending some time in South America and working on my Spanish, I began a degree in French at the University of Bristol. During this time, I spent a year in France, where I had my first role in marketing for an animation distributor in Paris. I enjoyed the creative side, the opportunity to write and work with graphics I then set out to pursue ways in which I could channel this work towards a good cause.
After finishing my degree I set off West once again, this time to Central America (still working on my Spanish!). I then returned to Bristol for a Master's in Gender and International Relations, which solidified my passion for social justice and desire to find meaning in my work. By the end of my Master's, I had worked across the spectrum – for an NGO; for an organisation that facilitates corporate-charity relationships; and on the business side, in corporate social responsibility – and settled on the idea that I am happiest while directly involved with helping people.
I handed in my dissertation in March this year, just before lockdown hit. After a brief period of filling my time with walking my dog and baking, I sought out something slightly more productive to do, and started working at Building Pathways as a volunteer. As we embark on a new community training initiative, I have now joined as an employee, still working in marketing as well as taking on some more project-based work. Having had my fair share of struggles with the job search, I am keen to get stuck into supporting those in a similar position, and I'm grateful to be working with such a dedicated and caring team.
Tracy Davis-Marks, Project Assistant
My first job after leaving school was running the offices of a catering wholesaler based in Kent, near to where I grew up. After a couple of years, I decided to pursue a career in sales, working for a number of companies, including Rank Hovis McDougalls, a Leadership Development training provider, a newspaper (the North West Evening Mail) and Robinski, a delicatessen, before settling in London working for a specialist envelope printer. Clients included Friends of the Earth, Save the Children and many mailing houses, with jobs ranging from hundreds to millions of envelopes.
During this time, I was lucky enough to accompany my husband to a 2 ½ year posting at the British Embassy in Washington DC, which involved extensive travel around over 36 states, Hawaii and Alaska, included. On return to the UK, I qualified as a Nursery Assistant as well as the trials and tribulations of bringing up 2 very active boys. Three years ago I got involved in the BuildForce project, assisting service leavers and veterans find employment in the construction industry, which was a very fulfilling and rewarding experience. BuildForce led to Building Pathways, which I have been with from the start and recently I passed my Level 2 Certificate in Information, Advice or Guidance.
My main interests are in keeping fit, through pilates, walking our Lakeland Terrier and playing golf, which I learnt to play whilst living in the States. With a handicap of 21, there is still lots of room for improvement! I also love to cook and bake for my family, although this does not necessarily help our waistlines, and create many different recipes inspired by our travels.
Omar Awad, Marketing and Communications Assistant
My journey to Building Pathways started at home, and in two main ways; firstly, my dad likes to say that media is the family business and for good reason. He and my mother met whilst working at the Egyptian state TV broadcaster, and his career as a journalist and broadcaster took him all over the world under a variety of organizations and, such as the BBC World Service and Al Jazeera, and despite differing paths, me and my two siblings all ended up working in the media industry on some level.
After (and often whilst) studying at the University of Brighton, I worked in a few different roles in the new media landscape, such as a staff writer for highly-regarded Egyptian lifestyle and news website CairoScene, a contributing music reviewer for Cairo360, and a social media account executive for one of the largest social media and marketing firms in the MENA region, working on campaigns for such varied clientele as small, local Cairo businesses, all the way up to multinationals such as Coca-Cola, Converse, Heineken, and Pfizer.
The second way my journey started at home is that my parents ensured to instil in all of us a strong sense of community and compassion which directly informed my later experience in community activism. I have been involved in projects and community groups trying to tackle issues like food poverty, homelessness, free education, racism, criminal justice, and international solidarity projects to support oppressed people worldwide.
The synthesis of these two parts is of my life and upbringing is what has brought me here, and I believe that Building Pathways is an ideal place for me to be because of their commitment to providing assistance and support to those most in need and ensuring that every person that comes through our system leaves with the positive outcome they need and deserve, and I truly believe that we are extremely well placed to provide support to the untold number of people needing assistance through the current difficulties we are all dealing with.
Usha Chadha, Project Manager
Appreciative of human capital at work I tend to focus on bringing empathy and encouraging collaboration to help people do their best and be their happiest at work. Experienced in a multitude of sectors including SME's, corporates, social enterprises, local & central government, voluntary sector, military sector, events industry, sports & large companies. project managing at Building Pathways means I am contributing to a real team effort to ensure we help people access the support they need to build their future prospects.
An ICF approved business coach for the past 3 years I also run my own coaching practice. I'm also an art therapist, forest bathing practitioner and a Master NLP Practitioner.
Outside of work, my guilty pleasures are motorbiking, art, languages, globe-trotting and good food!
Questions / Queries?
If you have any questions or would like to find out more, please get in touch
CONTACT US
Questions or Queries?
If you have any questions or would like to find out more, please get in touch
CONTACT US
Building Pathways Twitter Feed
The Build Your New Future project is back with free #advice sessions for South London residents! Join us next Wednesday for a CV and job application #masterclass by Megan of @jmurphyandsons, and make your application stand out. Sign up: ow.ly/4Yxu50D7Eh0 @JCPinSthLondon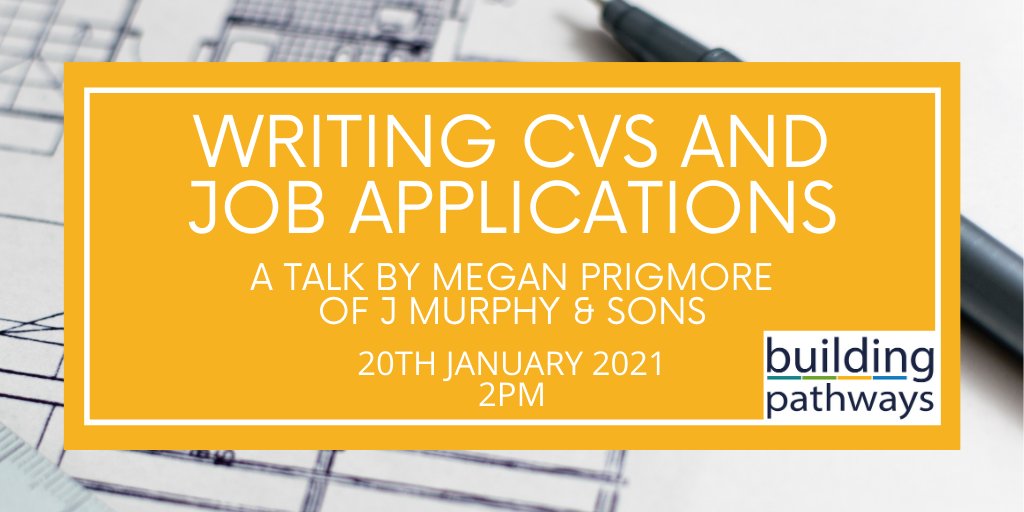 Registered in England & Wales No. 12130294
1 Cousins Grove · Southsea · England · PO4 9RP