Social Value
What is Social Value?
It is increasingly becoming the norm for organisations to consider their activities holistically, taking account of the wider economic, social and environmental effects of their actions. Social Value is often the term used for these broader effects, and those organisations which make a conscious effort to ensure that these effects are positive, can be seen as adding Social Value, by contributing to the long-term wellbeing and resilience of individuals, communities and society in general.
How can Social Value be measured and reported?
Social Value measurement is becoming more standardised. The National Social Value Measurement Framework or National TOMs for short (TOMs stands for "Themes, Outcomes and Measures") was developed by the Social Value Portal and launched in 2017. Endorsed by the Local Government Association, its adoption is spreading rapidly through the local government sector. A TOMs-based approach has also been adopted by the NHS Sustainable Development Unit. Central government is currently working on a new approach to delivering social value based on very similar principles.
A core value of Building Pathways is to have social impact in everything we do and we are currently developing a social value platform that measures the social return of investment in all our activities.
Beneficiaries securing employment
Employment support through career mentoring
Training mentors and facilitating industry mentoring
Questions / Queries?
If you have any questions or would like to find out more, please get in touch
CONTACT US
Questions or Queries?
If you have any questions or would like to find out more, please get in touch
CONTACT US
Building Pathways Twitter Feed
Congratulations to David Arando Mazo, beneficiary of our BYNF #employability programme, for his new role at @MottMacDonald as a Graduate Electrical Engineer! Read David's own words! #LoveConstruction #Careers #Training #Online #ConstructionUK #Support #CV #CSCS #Mentoring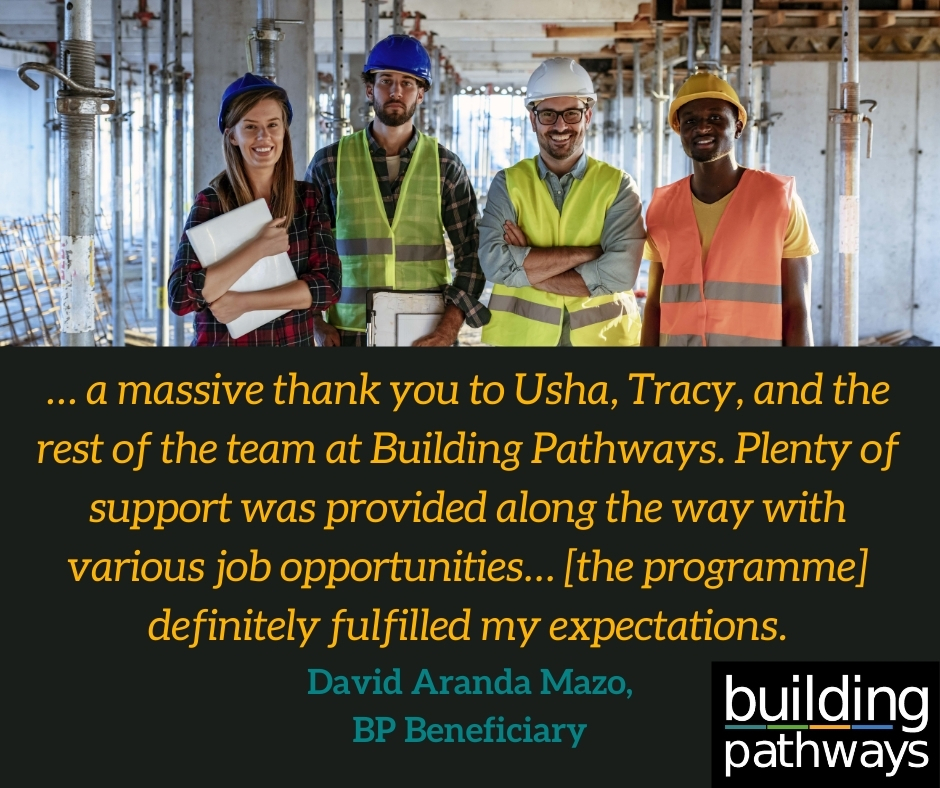 Registered in England & Wales No. 12130294
1 Cousins Grove · Southsea · England · PO4 9RP